Step 1 PREPARE BOXES
Using Corrugated Box
Please use Heavy-Duty + Double-Wall boxes:

Weight restriction per box: (effective 1/1/2020 ):
50lbs

$35 surcharge will impose on weight between 50lbs - 60lbs
Please contact us if you intend to ship boxes over

60LBS
Where to buy these boxes:
You can purchase these Heavy-Duty + Double-Wall online。Please go to below online stores and search for heavy-duty and double walled boxes. Please understand that we cannot guaranteed that these links will always lead to the correct boxes, so please double check and make sure you are purchasing the correct boxes - these links are subject to be changed as online companies frequently update their websites.
Uline.com (only available online):
Lowe's:
Office Depot:
U-Haul:
Staples:
Using Luggage
Please measure the (L x W x H) of the luggage from the wheel to the handle. Please be sure to provide actual measurements from the widest/longest/tallest points, as a luggage could be stuffed to the point that it can change shape.
Please note that we are not responsible for wear and tear to luggage, such as scratched surface, fallen parts, damages to handles, wheels, and zipper.
There will also be additional handling fees for a luggage.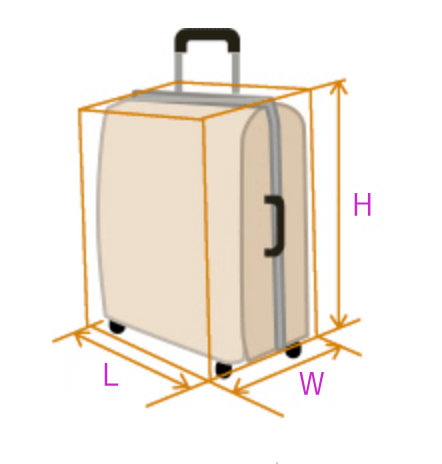 ---
IMPORTANT
Please do not use The Home Depot's Heavy-Duty & Double Wall box if you intend to ship over 30LBS per box, $20-35/box fee will incurred for repacking if you do so.
If you use Duck Heavy Duty Box, we will re-box. Each box will be $20-35/box.
For books, try to use boxes with dimensions of

16x12x12

or

14x14x14

inches
Please do not wrap your boxes with plastic

(see picture)

. There will be additional fees if you use plastic wrap. Just use more tape to strengthen the box if you would like.
Step 2 PACKING INFOS
---
Prohibited Items
Tampons
Makeup, cosmetics and Vitamins (Please refer to our ✈️ Express Service)
Tobacco and alcohol
Drugs
Liquids
Pornographic and illegal discs.
Knives: such as chef's knife and fruit knives.
Luxury items: such as jewelry, jade, high-end purses, cellphones, watches, cameras, or any high-end
Fragile items: such as crystal, glass, ceramics.
Food: • such as fresh produce, meat, dry food, and others.
Flammable liquids: such as alcohol, perfume, nail polish, nail polish remover, chemical agents, drinks, and others.
Dangerous material: such as paint, spray paint, canned smoke, canned gas, or anything flammable.
Firearms and drugs:such as guns, bullets, marijuana, heroine, and others.
Any type of animal and plant products and taxidermy, such as ivory or soil samples.
Chinese medicine such as bezoar, musk, ophiocordyceps sinensis, and others.
Biologics: such as serum, vaccines, and samples of living things.
Corrosive agents and explosives: such as sulfuric acid, explosives made with mixed chemicals, and any other explosives and corrosive agents.
Taiwan Customs Agents have always been strict with students' personal effects. Please do not try to ship anything illegal. To ensure safe and timely arrival of all of our customers' packages, we will check packages and discard any items that are not legally allowed by customs. By using our service, you agree that Charlene Transport can legally open, inspect, and discard all items in packages when necessary and agree to waive legal recourses.
Step 3 GET QUOTE
Please download the quote form / packing list
Once you have filled out the quote form, please email to charlenemoving@gmail.com or charlenemoving@hotmail.com to obtain a quote.
We will respond in one business day and provide you with a quotation and shipping instructions.
Please keep the form in it's orginial file type, do not save it as pdf.
Quote Form Instructions
When filling out the form, please list the boxes in order. Please list all contents, such as electronics, computers, communication devices, and consumer electroincs (these would be have to be shipped by air). Please be as accurate as possible in listing the contents.
Value of each package shall not exceed $100 USD in value. Please ship by air if a package exceeds $100 in value.
Shipper and receiver must be the same person (You can only ship to yourself).
Before shipping, please take pictures of the contents in the boxes. Do not ship illegal or dangerous items. Customer and customer only will be legally responsible for any legal violations.
If shipping from NYC, please be sure to provide correct addresses, and the contact information should include two phone numbers. Packages will not be shipped until after all payments have been cleared. The customer and the customer only is responsible for any delays and storage fees caused by the customer (such as late payment).
All above five points must be met a month after the packages have been picked up. Otherwise, the customer agree to forfeit all ownership rights to the packages and agree that the customer has authorize Charlene Transport to manage the packages and waive all legal recourses.
1Charlene Transport reserves all rights to handle any disputes in New York City court.
Step 4 PAYMENT & PICKUP
Payment
Please confirm by email after you have received our quote and decided to ship. We will reply with payment instructions.
Please transfer payment to our account and send us a receipt/screenshot of the payment. Please also let us know when you'd like to schedule a pickup.
Pickup Appointment
Local NYC pickup will be arranged and scheduled by Charlene Transport.
For third party pickup by FedEx/UPS/DHL, please note:

Pickup time will be Monday through Friday, Morning or Afternoon. Pickups are not available during the weekend or holidays.

Customer can also drop off at FedEx/UPS/DHL authorized locations. Please label all boxes and drop off at the authorized locations.
Please note
Once the customer has received shipping labels, any changes to address, telephone, contents, or any documentable information, a $35 administrative fee will be charged for each time revisions are requested.
Once Charlene Transport receives packages in warehouse, shipment will proceed if there are no problems.
Once we receive customer's package in our warehouse, additional fees might incur. Charlene Transport will notify customers for any additional fees. Payment needs to be cleared in 10 business days. Customers will be fully responsible for any additional storage fees due to delayed payments.
Once payment is cleared, Charlene Transport will manage all export process.
Refund Policy
A $35 cancellation service charge will be applied if the request is made within 24 hours AND before we send you shipping labels.
Once we have sent you the shipping labels or after 24 hrs, we will charge a $50 processing fee.
Under all other conditions, there will be no refund, but you could use the credits up to 6 months.
Step 5 PREPARE DOCUMENTS
Preparation of Custom Clearance Documents
Please prepare these and save document on your own computer. You do not need to email these to us. We will notify you when these documents are needed
Copy of Passport:

We will need a copy of your first page of the passport, or the page with photo on it.

Proof/stamp of entry into Taiwan within the last six months:

please be sure to go to an agent in order to receive stamps

(Example)

Certificate of Entry and Exit Dates:

Please go to local immigration depart in your own county and save the documents for yourself.

(Example)

Packing List:

We will geneate a packing list based on the quote form you send us.
Step 6 DELIVERY
Delivery time and informations
Ocean shipping to Taiwan takes about 2 months to 4.5 months to arrive, counting from the day our warehouse receives your packages. We do not have tracking service at the time. However, transportation of personal effects rarely encounters any delays other than customs issues. Please be patient and wait for the packages' arrival.。
Once packages have been picked up, you may not revise or update documents, such as change of address or contents. If you need to change your information, there will be a $35 administrative fee for revisions. A month after the packages have been picked up, we will not be able to make any revisions. Other ways to contact us will center on our New York office. Please be sure to email us with your name, order number, so we can look up your information.
All customers agree to Charlene Transport's terms, conditions, and operation processes and authorize Charlene Transport to handle the process of transportation. Charlene Transport may decide to not transport without consulting with or notifying customer in cases of uncooperative customers or customers who do not declare contents accurately in order to ensure safe and timely arrival of all of our customers' packages. Customer will be responsible for receiving of returned packages and all costs when packages are returned to customer. Customer forgo all rights to legal recourses and agree to not wrongfully harm Charlene Tranport's reputation in public, on social media or other means.