Step 1 PREPARE BOXES
Using Corrugated Box
Please use Heavy-Duty + Double-Wall boxes:

Weight restriction per box: (effective 1/1/2020 ):
50lbs

$35 surcharge will impose on weight between 50lbs - 60lbs
Actual weight over 60lbs is prohibited. If individual box is over 60lbs, it will be split into multiple boxes and addtional fee will apply.
Where to buy these boxes:
You can purchase these Heavy-Duty + Double-Wall online。Please go to below online stores and search for heavy-duty and double walled boxes. Please understand that we cannot guaranteed that these links will always lead to the correct boxes, so please double check and make sure you are purchasing the correct boxes - these links are subject to be changed as online companies frequently update their websites.
Uline.com (only available online):
Lowe's:
Office Depot:
U-Haul:
Staples:
Using Luggage
Please measure the (L x W x H) of the luggage from the wheel to the handle. Please be sure to provide actual measurements from the widest/longest/tallest points, as a luggage could be stuffed to the point that it can change shape.
Please note that we are not responsible for wear and tear to luggage, such as scratched surface, fallen parts, damages to handles, wheels, and zipper.
There will also be additional handling fees for a luggage.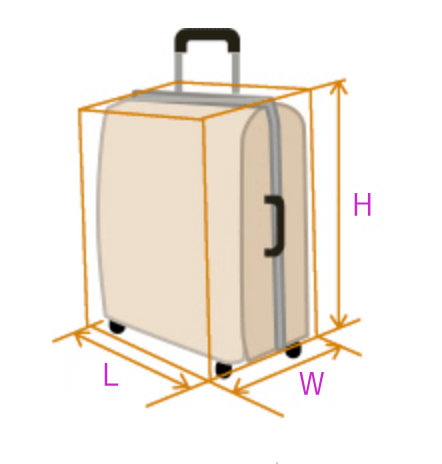 ---
IMPORTANT
• Please do NOT use boxes from The Home Depot or Duck® Heavy Duty Box when shipping to China.
China's Customs only allows up 50 books. Please do not exceed this number. Also, please use

16"x12"x12"

or

14"x14"x14"

box for books;Please do not ship any books or printed material that are against government regulation.
• All packages must conform to the legal definition of "personal effects" (i.e. of no commercial value). Customers will be fully liable for shipments of non-personal effects if Customs is to withhold shipment or when additional charges were to incur.
Please do not wrap your boxes with plastic

(see picture)

. There will be additional fees if you use plastic wrap.
Step 2 Classification and Packaging
---
Door to Door packaging classification (Class A, B, and E can be packaged together)
According to China's Customs regulation, contents must be packaged separately according to the classification. Please do not risk and mix items from different classes. In order to ensure all packages can be shipped and clear customs, customers may not object to the necessity of discarding illegal items.
Maximum box dimension allow : Length + Width*2 + Height*2 < 300cm
You may mix different classification. However, you will have to list each item and only ship by air. If you do not see your item in the classification chart, please let us know.
All wood products need to be fumigated per US and China trade agreement.
IF contents do not correspond to below classification, please call for inquiries. 347-813-4070
Category A

Hair brushes, clips, water bottles, water filter, cups, kitchenware (pots, pans, bake ware, bento box), utensils, pots (non-electric).

Category B
Books, notes, notebooks, magazines, stationery (paper, rice paper, notebooks), toys (legos, toy cars, non-wood toys, metal toys, puppets) (non-electric)
Category C

(refer to our EXPRESS SERVICE)

Tripod, luggage, children's car seats, canvas, painting, personal photography or painting, exercising machines.
Category D

(refer to our EXPRESS SERVICE)

Authorized CD/DVD, video tapes, coffee machine, speakers, golf equipment, hard drives, electronic parts, 3C products, television, computer, electric pot and related items.
Category E
Shirts, shoes, hats, belts, fitted sheets, duvet covers, diapers, backpack, used purses.
Category F

(refer to our EXPRESS SERVICE)

High-end purses, cosmetics (however, inflammable liquids, such as perfume, alcohol, and nail polish cannot be shipped)
Category G

(refer to our EXPRESS SERVICE)

Nutritional supplements, vitamins, coffee, milk power (2kg limitation per package) )
Prohibited Items
High value cultural and artistic items: Any currency, vouchers, such as art pieces, ore, gold, silver, and other precious metals. And tea equipment, wood sculpture and other wood products.
Fragile items, such as ceramic, porcelain, crystal, jade, glass and other valuable crafts. Electric meter, display tube, television, camera, light bulb, and others.
Cellular phones, digital cameras, flat screen computer, Lithium ion batteries, electronics with lithium ion batteries and portable charger. Fake and counterfeits, electronics or items with no brand or serial numbers.
All food, tobacco, Chinese medicine, tea, tampon.
All liquids (drinks, alcoholic drinks, alcohol, nail polish, paint, spray paint, hyperactive liquids, chemistry liquids, and others.
Dangerous material: canned smoke, canned air, or other flammable material. Corrosive, radioactive, poisonous and other dangerous material.
Military weapons and illicit drugs. Such as guns, weapons, simulated weapons, imitated weapons (such as toy guns and others), gun power, heroine, methamphetamines, and other military weapons and illicit drugs.
Sharp metal and knives. Such as chef's knife, fruit knives, and other sharp edge knives.
Any products from endangered species (such as leather, ivory, fur, wood, and others), any types of plants (such as specimens), and other seeds and breeding material, or soil samples.
Corrosive, radioactive, poisonous, and dangerous material. Sulfuric acid, explosives made with mixed chemicals, and any other explosives and corrosive agents.
Religious book and publications. Pornographic books. Comic books. Political books. Pornographic discs. Pirated discs.
Many items are banned in China. If you have any concerns, please check on China's Customs .
Step 3 GET QUOTE
Please download the quote form / packing list
Once you have filled out the quote form, please email to charlenemoving@gmail.com or charlenemoving@hotmail.com to obtain a quote.
We will respond in one business day and provide you with a quotation and shipping instructions.
Please keep the form in it's orginial file type, do not save it as pdf.
Quote Form Instructions
Used value for each box must be under $100USD. If the value of a package exceeds $100USD, please ship by air.
Shipper and receiver must be the same person with the same name.
Please take pictures of the contents before shipping. Do not ship illegal or dangerous items. Customer and customer only will be legally responsible for any legal violations.
The customer must list contents in order for each package, including the quantities of each item. Please package with care, as Charlene Transport will not be held responsible for any damages caused by improper packaging.
For packages shipping from New York City, please be sure to provide correct destination address, contact information. Please leave 2 emails (please do NOT leave gmail) and 2 phone numbers in China. Charlene Transport will ship only after payment clearance. The customer and the customer only will be responsible for any delays, storage fees, and other additional fees caused by customer (such as late payment).
All above points must be met a month after the packages have been picked up. Otherwise, the customer legally agree to forfeit all ownership rights to the packages and agree that the customer has authorize Charlene Transport to manage the packages and give up all legal recourses.
The customer authorizes Charlene Transport to manage the transportation of the packages. If third party is needed for transpiration or customs issues, the customer shall fully accept without objections.
China Customs Agents have always been strict with students' personal effects. Please do not try to ship anything illegal. To ensure safe and timely arrival of all of our customers' packages, we will check packages and discard any items that are not legally allowed by customs. By using our service, you agree that Charlene Transport can legally open, inspect, and discard all items in packages when necessary and agree to waive legal recourses.
Charlene Transport reserve all rights to handle disputes in New York City courts.
Charlene Transport does not guaranteed arrival time frames for ocean shipping, as arrival time will largely depend on China's Customs. If in a rush, please ship by air.
Step 4 PAYMENT & PICKUP
Payment
Please confirm by email after you have received our quote and decided to ship. We will reply with payment instructions.
Please transfer payment to our account and send us a receipt/screenshot of the payment. Please also let us know when you'd like to schedule a pickup.
Pickup Appointment
Local NYC pickup will be arranged and scheduled by Charlene Transport.
For third party pickup by FedEx/UPS/DHL, please note:

Pickup time will be Monday through Friday, Morning or Afternoon. Pickups are not available during the weekend or holidays.

Customer can also drop off at FedEx/UPS/DHL authorized locations. Please label all boxes and drop off at the authorized locations.
Please note
Once the customer has received shipping labels, any changes to address, telephone, contents, or any documentable information, a $35 administrative fee will be charged for each time revisions are requested.
Once Charlene Transport receives packages in warehouse, shipment will proceed if there are no problems.
Once we receive customer's package in our warehouse, additional fees might incur. Charlene Transport will notify customers for any additional fees. Payment needs to be cleared in 10 business days. Customers will be fully responsible for any additional storage fees due to delayed payments.
Once payment is cleared, Charlene Transport will manage all export process.
Refund Policy
A $35 cancellation service charge will be applied if the request is made within 24 hours AND before we send you shipping labels.
Once we have sent you the shipping labels or after 24 hrs, we will charge a $50 processing fee.
Under all other conditions, there will be no refund, but you could use the credits up to 6 months.
Step 5 PREPARE DOCUMENTS
Preparation of Custom Clearance Documents
Please prepare these and save document on your own computer. You do not need to email these to us. We will notify you when these documents are needed
Copy of Passport

Packing List:

We will geneate a packing list based on the quote form you send us.
Important thing to do upon arrival in China
Once arrived in China (at the airport, port, bus stop, or border), please be sure to declare your packages at customs to simplify importation process. If packages are delayed because the customer does not declare the packages, Charlene Transport shall not be held responsible.
China Customs regulation change frequently. If Customs agent requires the customer to provide identification or be at Customs in person, the customer will have to go to Customs in person order to receive package.
Step 6 Delivery
Delivery Time and Thing to Note
It takes about 3.5 months to 6 months to ship to China (China's Customs have regulations that often delay shipments). We do not have a tracking system right now. However, once the packages arrive at our warehouse, it is very rare anything goes wrong. Please be patient and wait for your packages. (We cannot have guaranteed exactly when your packages will arrive. If you are in a rush, we recommend that you take the packages with you on the airplane or ship by air. We will not be held responsible for delayed shipments and storage fees.)
If you need to revise address or contact information within a month after we receive your packages in our warehouse, we can make revisions (no fees). After a month, there will be a $25 administrative fee each time you request a revision. After two months, we will not be able to make any revisions. If you have any questions, please contact our NYC office – it is the best to use email. When contacting us, please let us know your full name and receipt number, so we can look up your shipment.
If the address is undeliverable in China, the package will be transferred to Taiwan. When this happens, you will have to pay for both the return air shipment to Taiwan (around $120/box) and redelivery to China (around $70/box).
Charlene Transport, when shipping to China by sea, conform to transportation norms and does not charge extra fees. When Customs issues arrive due to deviation between items on packing list deviate from actual items in packages, Charlene Transport are not authorized, nor have the duty to negotiate with China's customs agent. When China's customs agent requests or requires shipper (ie you, the customer) to provide additional documents, the customer will have to provide the customs agent with the documents as requested/required. Charlene Transport will not be held responsible for any costs associated with Customs and related issues outside of the USA – Customer is fully responsible for such fees (such as duties, delay fines, banking transfer fees, withheld shipment, and others).
All customers agree to Charlene Transport's terms, conditions, and operation processes and authorize Charlene Transport to handle the process of transportation. Charlene Transport may decide to not transport without consulting with or notifying customer in cases of uncooperative customers or customers who do not declare contents accurately in order to ensure safe and timely arrival of all of our customers' packages. Customer will be responsible for receiving of returned packages and all costs when packages are returned to customer. Customer forgo all rights to legal recourses and agree to not wrongfully harm Charlene Transport's reputation in public, on social media or other means.